BlakeStanley was opened in 2003 by two good friends, both with over 10 years of experience in the industry, Nick Robinson in Sales and Nicholas Blake in Lettings. They were joined soon after by Davina Cooper, an experienced Property Manager who is now an Associate Director of the company. BlakeStanley now have a team of over 20 staff, many of whom have been with them for over 5 years.
---
With our belief in the area as a place to live and work we opened our doors on Broadway Market in 2003 which coincided with the re-launch of the Saturday Market a year later. Kick started and still operated by the Broadway Market Residents and Traders Association (BMTRA), of which we are members, the market was popular right from the off – by the end of the first year there were in excess of 30 traders and 3,000 visitors each week. Due to the popularity of the market, these figures have continued to grow over the years, now with over 120 stalls for 90 traders and over 30,000 visitors each week.
From the middle of 2013 we were actively seeking out a new shop in Clapton, specifically Chatsworth Road. Based upon the model of the Broadway Market Saturday Market, a Sunday market was started on Chatsworth Road in 2010 and is going from strength to strength, which together with the opening of a number of cafés, restaurants and artisan shops, the area has experienced a resurgence as a place to visit.
We acquired our second office on Chatsworth Road in 2014 and were open by October that year. Following years of advice to local clients and having brand awareness in the area, the office became successful very quickly.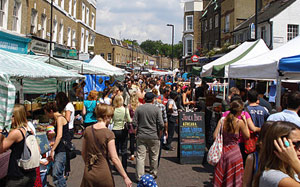 The infrastructure improvements in Hackney have been substantial. Hackney now boasts one of the best open air swimming pools in London and a wealth of local primary and secondary schools achieving good Ofsted ratings. The excellent transport links, particularly the opening of the East London Line in 2010, means London Fields and Clapton connect to central London within 30 to 40 minutes. All of this, together with a housing stock made up of traditional period homes, warehouse conversions and new build properties has led Hackney to become one of the most desirable places to live in London.
Loading tweets...